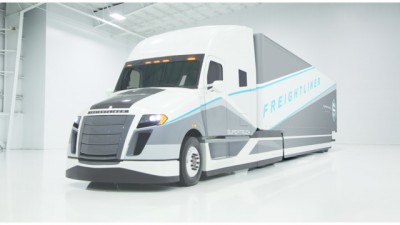 Within 10 years, trucks in the United States will produce 10% less carbon dioxide and consume 10% less fuel.
For those in the trucking industry, the recent announcement isn't a surprise. In fact, more than four years ago, President Obama addressed workers at a North Carolina truck factory, announcing that $1bn in tax credits and grants for energy efficient and alternative-energy cars and heavy trucks was making its way through Congress.
According to the 2012 article, published in The Guardian, Obama stated, "We can't just keep on relying on the old ways of doing business. We can't just rely on fossil fuels from the last century. We've got to continually develop new sources of energy."
Since then, Daimler Trucks of North America unveiled the revolutionary new Freightliner SuperTruck and just last month, the Obama administration finalized new fuel-economy standards heavy-duty vehicles, including tractor trailers, that will greatly reduce greenhouse gas emissions and lower our nation's dependence on fossil fuels.
More About the New, Phase 2 Fuel Economy Standards for Large Trucks, Semis, and Buses
In August, The Washington Post reported that, "The new requirements affect a class of vehicles that includes school buses, large pickups, delivery and passenger vans, garbage trucks and long-haul tractor-trailers. These heavy- and medium-duty vehicles represent only about 5 percent of total highway traffic but account for 20 percent of transportation-related fuel consumption and carbon emissions. Administration officials said they expect that when the new standards are fully implemented in coming years, they will cut more than 1 billion tons of carbon pollution from the atmosphere, save nearly $170 billion in fuel costs and reduce oil consumption by an estimated 84 billion gallons."
Trucks.com, a website that chronicles changes in the technology and regulations that shape the trucking industry, reports that, "The 1,690-page document…is intended to slash CO2 emissions by approximately 1.1 billion metric tons over the lifetime of the vehicles sold under the program, or about a 25 percent reduction compared to the current rules."
The site went on to note: "The new regulations received a 'cautious' endorsement from the American Trucking Associations. 'We are pleased that our concerns such as adequate lead-time for technology development, national harmonization of standards, and flexibility for manufacturers have been heard and included in the final rule,' said Glen Kedzie, ATA's vice president and environmental expert. 'However, while the potential for real cost savings and environmental benefits under this rule are there – fleets will ultimately determine the success or failure of this rule based on their comfort level purchasing these new technologies,'"
However, leaders from enterprise level companies that rely on long-distance truckers to transport goods to all corners of the country, applaud the new regulations. Pepsi, Walmart, Waste Management, and FedEx — all major players in the trucking transportation industry — have applauded the new efforts.
Which makes sense, as reducing costs increases profits. That these new regulations are good for both the environment and for the economy just happen to be an added bonus.
To learn more about changes in the trucking industry or to become part of a growing community of trucking professionals, contact us.
Image Source: http://www.truckersamerica.com/home/freightliner-maps-long-road-ahead-for-autonomous-trucks