Logistics Jobs & Truck Driving Jobs in Nashville TN
Beacon Transportation is seeking qualified applicants for delivery and transportation jobs in Nashville, TN. We have immediate job openings for truck drivers, customer service and dispatch workers who are dedicated to achieving a high level of customer satisfaction.
No NY City or New England
Assigned late model 670 Condo Volvos
Assigned experienced dispatchers
100% No touch freight – General Commodities/Non-Hazardous
2.5 to 1 trailer/tractor ratio – to accommodate drop and hook freight
EZ/I/Pre-pass
Medical, Dental, Life, L/T & S/T Disability insurance available at group rates
$15,000 Company paid life policy on employee
401-K
Layover, stop/pickup, and detention pay
Safety/Performance raise – every 6 months
Monthly performance bonus
Referral bonus
Clean inspection bonus
Vacation pay
Direct deposit – Weekly payroll
Passenger policy
Pet policy
2 Day orientation with pay
Requirements for Truck Driving Jobs
At least 23 years old
18 months of recent verifiable tractor-trailer experience
No DUI in the last five (5) years
No license suspensions in the last three (3) years
No more than one (1) preventable accident in the last three (3) years
No record of conviction of more than 2 motor vehicle violations during past 3 years
Pass a pre-employment drug screen
Pass a pre-employment DOT physical or have one that is current
Must be able to qualify for TWIC™ card
Beacon Transport Hiring Map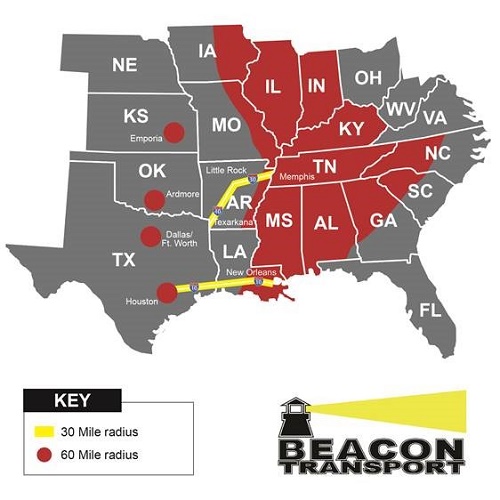 Beacon Transportation is hiring truck drivers who possess a valid Commercial Drivers License. We offer competitive pay!
For More Information on Nashville Trucking, please contact our recruiting department
Dial: 877-277-0238 x 231
Email: Tiara.Taylor@BeaconTransport.net